Making your school's yearbook is very exciting and a lot of fun. But before you start, it's important to make a plan. This article will help you organize your yearbook from start to finish. We comprised a checklist for you to use and recommend answering these questions.
1. The purpose ⭐️
First, understand the purpose of the yearbook you're about to make. Then, ask the class to participate in a short activity and propose the following questions: "Why do we make a yearbook? Who is it for? And what's the goal we would like to achieve?"
2. Brainstorm yearbook ideas ⚡️
Once the purpose and audience are clear, brainstorm together and list everything you would like to include inside the book. From school events, to teacher interviews, to the design of the book. While brainstorming, make a list of adjectives that best describes your student body, each of your classes, your faculty and staff, and your generation. The adjectives can help you form a theme, a central idea, or a concept, usually repeated throughout the yearbook. The theme unifies the message and gives the book a personality.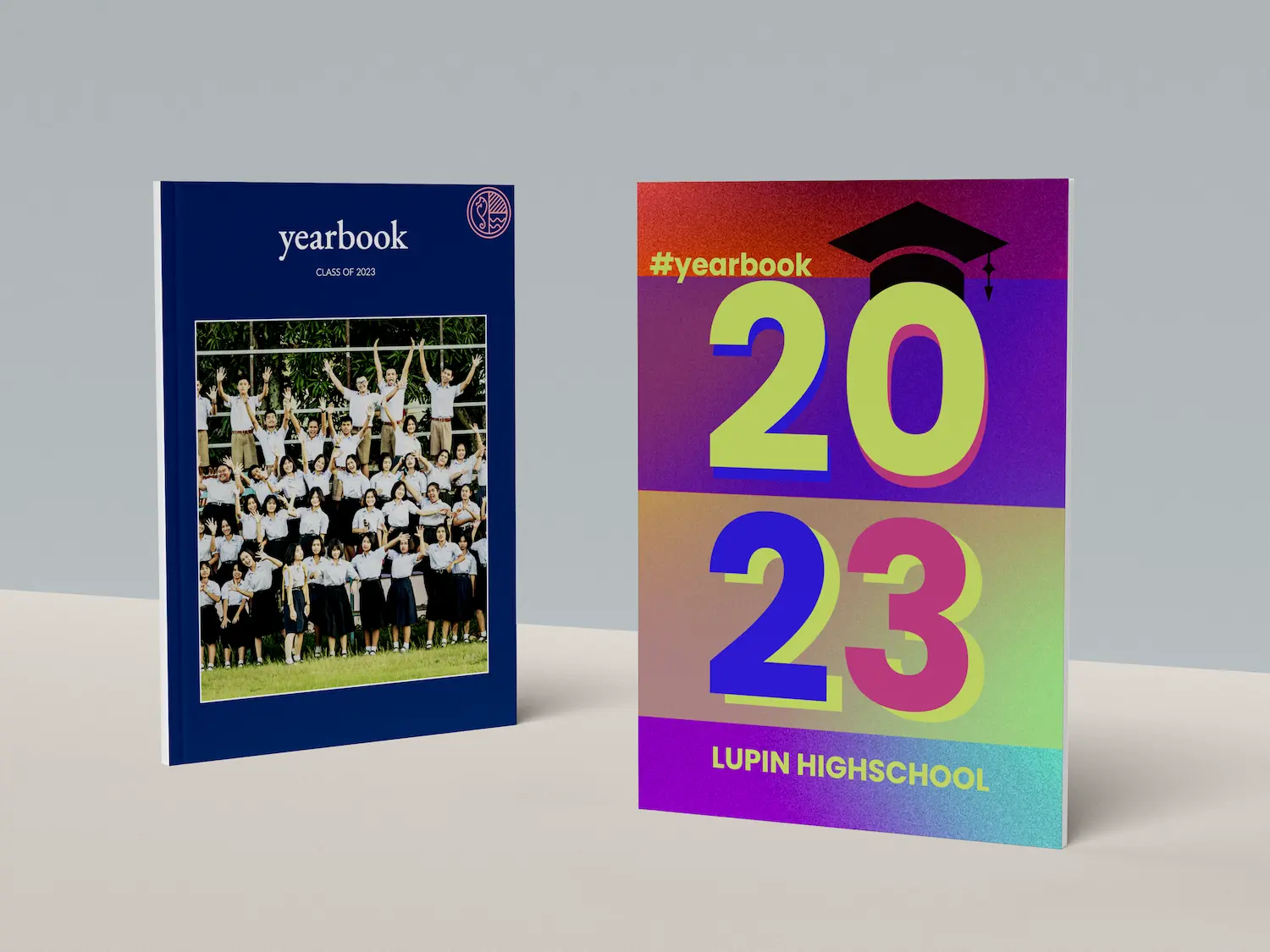 Most traditional yearbooks have the following pages dedicated to:
Faculty and staff
School administrators
Class or student portraits
Clubs and teams
Group photos
Special awards and superlatives
School events
The graduating class is in the spotlight
Read more ideas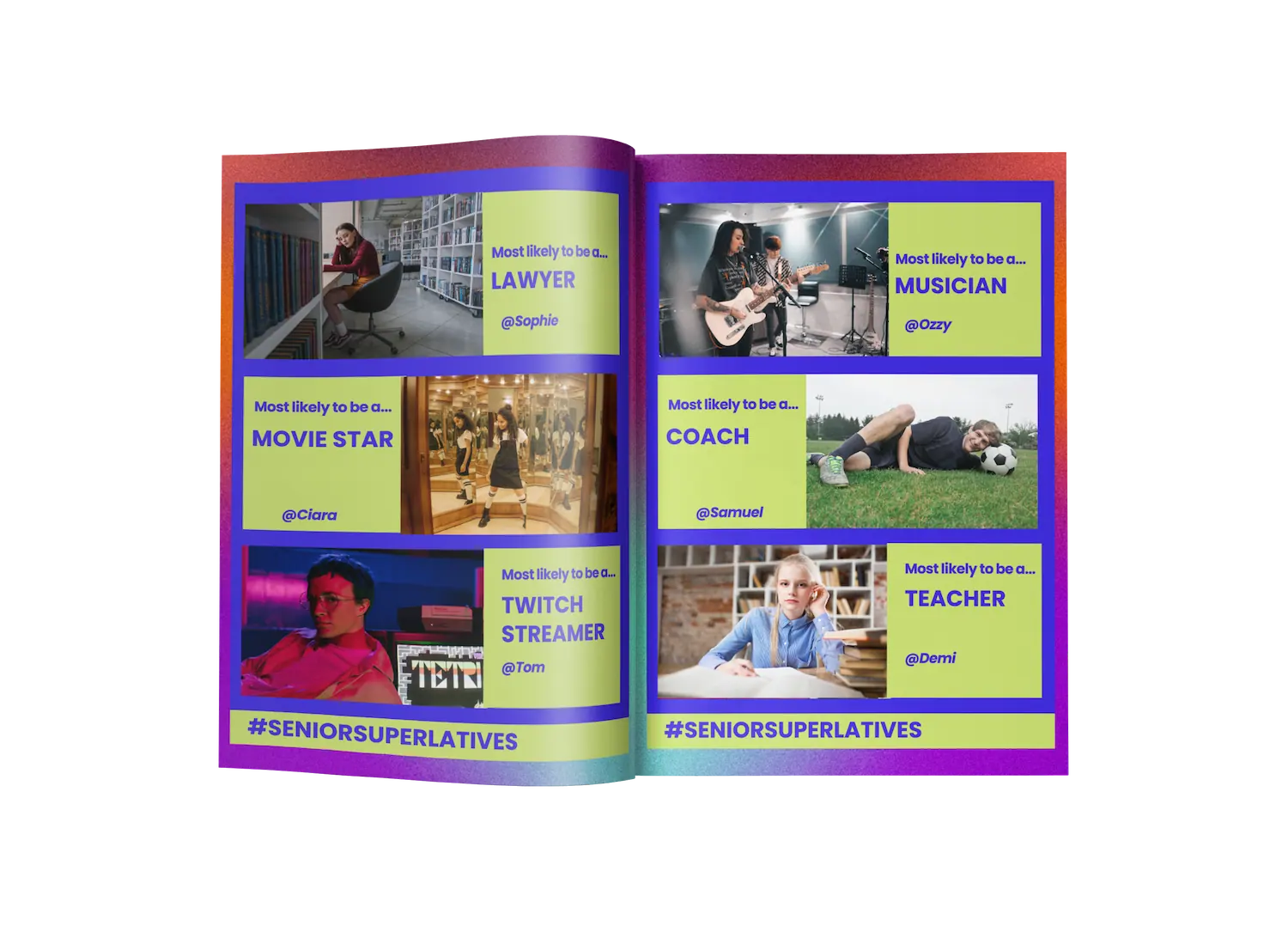 💥Yearbook inspiration – theme ideas:
Endless possibilities
If walls could talk
Capture the moment
Voices from within
We are the future
Plugged in
Our way
That's a wrap
All wrapped up
You can count on us
How we see it
Grow as we go
You-nique
3. Form an editing team 📝
Now it's time to form a team. The yearbook team can be large or small, depending on the school size. Figure out the roles within the group by having everyone write down their strengths and weaknesses.
Positions within the yearbook team include:
Yearbook Advisors (teachers, staff or parents who can manage the entire project)
Yearbook editors - (organize yearbook page structure, edit pages, tweaking design, proofreading text)
Yearbook Staff (assigned a yearbook section or page to create)
Photographers
Writers
Designers
Promoters
Content gathers
💡Pro Tip:Yearbook advisors and editors would be, in Jilster's terminology "chief makers". Yearbook Staff and students assigned to specific pages would be "makers". This is important to keep in mind when sending invitations to your team when editing your yearbook in the makerspace.
4. Choose to make your yearbook with Jilster 📚
Jilster's makerspace is a free online software for you to make your yearbook. Choose from a wide selection of our yearbook templates to help you make a yearbook fast and easy. Customize the template any way you like and create a beautiful, organized yearbook that will be a joy to look back on for years. In the makerspace, you can invite your whole team to work simultaneously on the yearbook. Invite as many chief makers or makers to your project as you want. Why is this useful? It makes it possible for each student to design and personalize their own page. Particularly special for graduating seniors or parents who want to buy a page to congratulate their child.
5. Set a budget and deadlines 🗓
How much does a yearbook cost? The cost of your school's yearbook is based on the number of pages, the number of printed copies, and the style of the final printed copy. For example, you can order your school's yearbook as a magazine (stapled or glued with a matt binding or a glued glossy) or as a hardcover book. Use our price calculator to help you plan out the budget. See how many profiles you want per page and how many pages you need per class. Next, plan your delivery date - when do you need to hand out the yearbook? We recommend ordering a sample copy in printed format before the final product. Make sure the yearbook goes through an editing process before finalizing.
💡Pro tip: Order printed samples of your yearbook to check the design, quality of photographs, and bleed lines before publishing the final copies.
Use this checklist when planning and editing the yearbook:
Number of copies =
Number of pages =
Profiles per page =
Style of print =
Photos
☑️ No faces are in the gutter
☑️ All photos are in focus and clear
☑️ Photos are relevant to the subject matter
☑️ Photos are placed well
☑️ Photos are high quality
Style guide
☑️ Elements on the page follow the yearbook style guide
Cohesiveness
☑️ Typography, color, photographs, and other design elements
Typography
☑️ The headline and subheadline are relevant to the body copy
Font of headlines = ______
Font of body text- ______
Color swatches -
The font size of headlines = ____
The font size of sub-headlines = ____
Body Text
☑️ Spell checked
☑️ Size/aligned correctly
☑️ Student names are in bold