Mother's Day is a special occasion to honor the women who gave us so much love, care, and support. It's a time to show our appreciation and gratitude for all the sacrifices they've made, the lessons they've taught us, and the memories they've created with us. And what better way to celebrate the incredible moms in our lives than by giving them a gift that's as unique and heartfelt as they are?
Mother's Day is just around the corner, and you're probably wondering what to get your mom to show her how much you appreciate her. If you're tired of giving the same generic gifts year after year, why not create a personalized magazine just for her?
For the mom who has it all - a magazine made with love.
A self-made magazine is a unique and heartfelt gift showing your mom how much you care. It's a chance to highlight all the things you love about her and share special memories and moments you've shared. With a bit of creativity and effort, you can create a magazine that's not only beautiful but also truly personalized. Whether it's a gift for your mom, or for a grandma, aunt, or friend who's like a mom to you, a magazine made with love is sure to be a hit.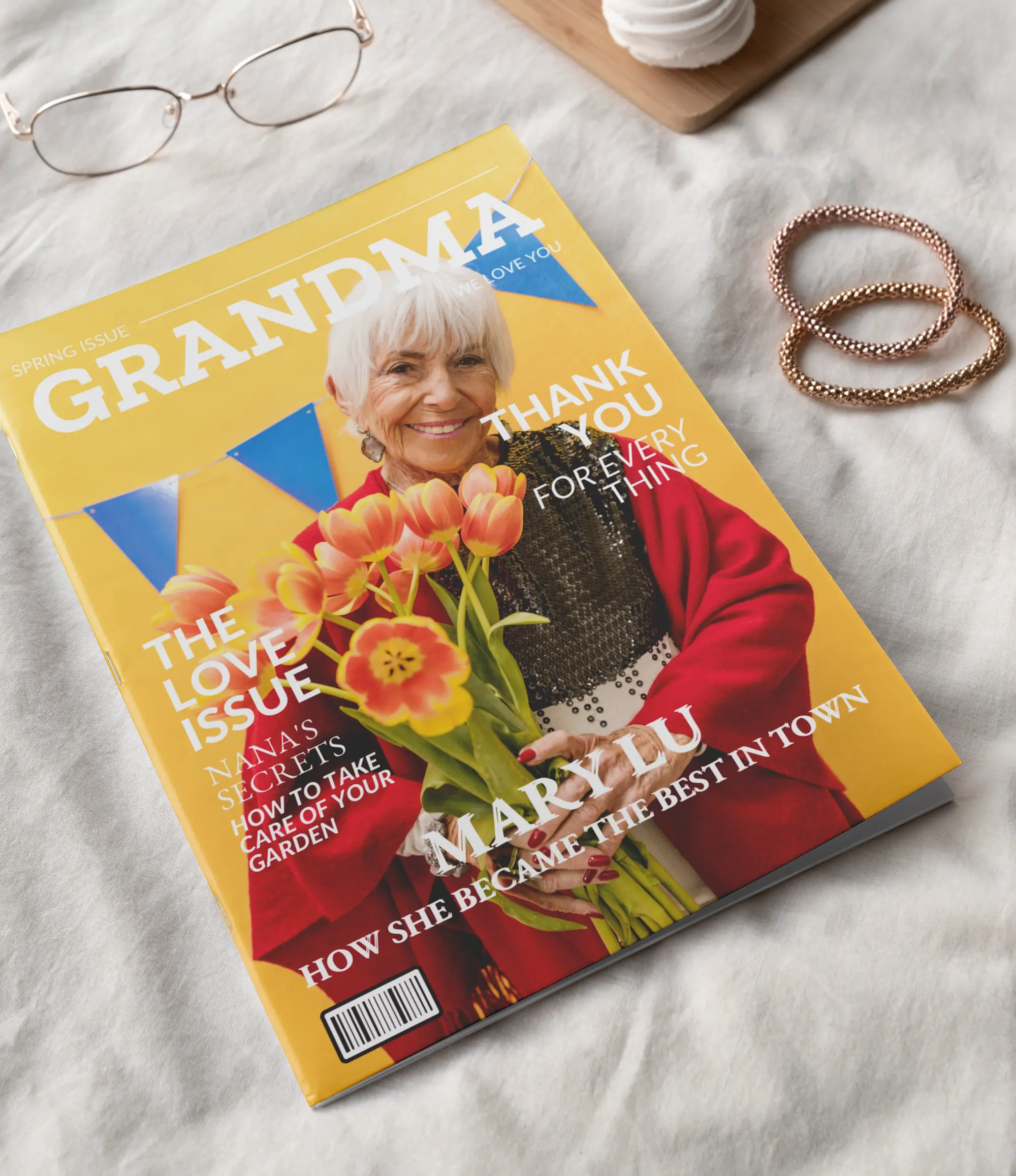 Make it together
Assembling a team to help you create the best magazine for your mom is a great way to show her how much she means to you, but it's also an opportunity to involve your siblings and other family members in the gift-giving process. Invite family members to your creation. Everyone can create pages in the magazine to share their memories, stories, and photos, creating a truly unique and collaborative gift that your mom will treasure forever. This will make the gift more meaningful and allow everyone to feel involved and included in honoring your mom on her special day.
Choose a design
Before you start creating the magazine, it's essential to think about the design. What colors and fonts will you use? What kind of layout will you use? You can choose from various templates and design elements to create a magazine that reflects your mom's personality and interests.
Collect content
The next step is to collect content for the magazine. Include photos, stories, memories, quotes, and more. You can also ask other family members or friends to contribute content.
Put it all together
Once you have some content, it's time to assemble the magazine. Log in to Jilster's makerspace and start designing. Our easy-to-use editor offers many options with great, professionally designed magazine templates for you to use as a basis and starting point for your creation.
Order and present
When you're happy with the final result, it's time to print the magazine. Order copies of your final creation and once it's printed, you can present it to your mom on Mother's Day.
So why settle for a generic gift when you can create a one-of-a-kind magazine that's truly special? Get started on your Mother's Day magazine today and make this year's gift unforgettable!